What makes SliderPLUS magical?
With its award-winning unique design, SliderPLUS is the first slider in the world that combines portable size with long camera travel. Travel with half the weight of a traditional slider and work in tight/crowded spaces much more efficiently.
Twice the camera travel
The rails of SliderPLUS move with the camera, giving you twice the amount of camera travel compared to regular sliders of its size.
Twice the dolly in/out range
SliderPLUS gives longer dolly in/out range compared to regular sliders. Since the rails move together with the camera, they won't get in the shot. This will give you twice the amount of dolly in/out range.
4 models
based on camera travel / carrying capacity
Compact
On tripod:


1.3 ft (40 cm) / 15 lb (6.8 kg)

On ground:


0.7 ft (20 cm) / 50 lb (22.5 kg)
Long
On tripod:


2.6 ft (80 cm) / 10 lb (4.5 kg)

On ground:


1.3 ft (40 cm) / 40 lb (18 kg)
PRO Compact
On tripod:


1.6 ft (50 cm) / 25 lb (11.3 kg)

On ground:


0.8 ft (25 cm) / 50 lb (22.5 kg)
PRO Long
On tripod:


2.9 ft (90 cm) / 20 lb (9 kg)

On ground:


1.4 ft (45 cm) / 40 lb (18 kg)
Well-thought-out
right down to the smallest detail
Fast to set up - easy to relocate
No tools or assembly required. It takes only a few seconds to set up for quick filming and location changes. SliderPLUS has a locking mechanism to make it immobile so you don't need to disassemble the system to relocate it.
All models fit in edelkrone Backpack
This amazing portability makes it very easy to carry your SliderPLUS. You will use it more often!
LEARN MORE
Built-in foldable legs
You may adjust each leg independently to adapt to the terrain or fold them up for easy storage. (SliderPLUS Legs now have the
locking
mechanism you wished for.)
Magnetic belt clips
You can replace the belts whenever you need without wasting time thanks to the magnetic snap-on belt clips.
Pop-up screw
The mounting screw on top can retract to protect your bag from scratches and tears.
Add
Steady Module
to perfect your hand-pushing
Steady Module
Steady module will enable you to nail that perfect shot even when you are at a very remote location. No batteries, no chargers required; completely mechanical solution. Uses fluid dynamics to dampen the movement.
LEARN MORE
Add
Slide Module v3
to motorize your slides
• Slide Automation • Motion Time-lapse • Stop Motion • Visual Effects
Slide Module v3
(What's new with v3?)
Slide Module v3 is a motorized add-on which can be attached to all SliderPLUS models. With Slide Module v3, you can easily achieve perfectly stable slides or easily program motion time-lapse and stop motion videos. You can still move your SliderPLUS with your hands to set positions while Slide Module is attached!
LEARN MORE
Ability to do tasty inclines
Thanks to the new design of SliderPLUS v5, you can now do inclines up to 22.5° (climb/descend) when paired with Slide Module v3 or the previous generation Slide Module v2. While doing inclines, the use of motorized heads is not recommended. If you need an incline monster, we recommend taking a look at
JibONE
.
Connects wirelessly
to edelkrone Heads
Having a motorized head on SliderPLUS + Slide Module opens the door to amazing 2-, 3- or 4-axis camera motions which can be easily programmed and repeated. You can record never-before-seen, amazing motion time-lapses and visual effects shots with these combinations. The devices pair instantly in the background while using the same App or controller to control all devices together.
Serious Filmmaker or Youtuber?
Take your productions to the next level!
Exclusive edelkrone features
for one-person video production
Automatic Target Tracking
(with HeadPLUS)
HeadPLUS has the ability to learn three different targets. When transitioning between targets, HeadPLUS keeps each target in frame and focus even when moving on SliderPLUS! With this automatic feature, you can achieve elegant parallax shots without spending any time programming the system.
Live Target Switching
(with HeadPLUS)
You can make a smooth transition between any of the three preset targets by selecting your desired target through the App. During each transition, HeadPLUS elegantly frames the new target and focuses while keeping the target in frame and focus as the camera moves.
Instant Target Learning
(with HeadPLUS)
If you add Laser Module to HeadPLUS, you can teach the position of any stationary target to the system instantly. Just aim on the target and press OK. The camera will instantly frame and focus on the target.
Sequencer feature
(with HeadPLUS or HeadONE)
With Sequencer feature, you can chain multiple poses one after another to create complex camera motion. Transition speed between every pose is independently adjustable. Also, you can make it loop so that the system goes back and forth in the given order.
Stop motion software integration
(with HeadPLUS)
HeadPLUS can be controlled with Dragonframe animation software through any PC (Windows/Linux) or Mac using edelkrone Link Adapter (required). The mobile edelkrone App comes with a stop motion feature that has helped videomakers create amazing animations over the years. Now, with the release of edelkrone Link Adapter, you can step up your stop motion game by using Dragonframe to fine-tune your production in even more detail.
LEARN MORE
Can be hand-controlled
(with HeadPLUS)
You can manually adjust the pan and tilt angle of the HeadPLUS. Instead of relying on a remote control, you can program your camera motions with just your hands! This gives an unprecedented speed to your workflow, and makes the whole process much more intuitive.
Super easy
time-lapse programming
Setting up a motion time-lapse is the easiest with edelkrone App. In your time-lapse videos, you can have a simple transition between two keyposes or you can convert a recorded complex camera motion into a time-lapse with a single button. You can use edelkrone's unique Dynamic Interval and Dynamic Step Size Technologies to introduce never-before-seen effects to your time-lapses which bend the speed of time and speed of camera motion independently of each other.
Single App
to control all
edelkrone App cleverly scans the available devices in its surroundings and pairs with them automatically, giving you a single screen to control all devices together.
The interface is extremely simple.
Use the controls on the top part of the App screen to set the pose of your camera. Press and hold on any of the keypose buttons to record that pose. Use the same button to recall that pose. It's that simple. Press 2 keyposes to put the system in loop between both keyposes.
You can adjust the speed and acceleration of the transition between keyposes. Or, you can easily create time-lapse videos by using the same keyposes.
App Details.pdf
The App shows you this control screen when there is only one motorized slider discovered around. The keypose, transition speed, transition smoothness adjustments are always available on the main screen.
When you combine your Slider with HeadONE, this is the control panel you'll see. If you add 2 HeadONEs, the tilt adjustment will also appear on the screen. Sequencer feature becomes available when you connect an edelkrone head to the setup.
When you combine your Slider with the HeadPLUS, the App gives you this 4-axis control screen including the focus adjustment. Notice the Target Mode button also becomes available at the bottom for smart target tracking.
After you complete recording a motion, this is the screen which lets you replay the motion recorded. You can also convert it in to a time-lapse or stop-motion via this screen.
This is the time-lapse screen. First, enter your Record Time & Play Time and your FPS settings. Next, set the same shutter speed with your camera in the app & set the interval. Lastly, select the starting and ending keyposes. This way you will achieve a nice motion time-lapse video transitioning between both keyposes.
When you setup your time-lapse, instead of entering a static interval, you can enter a dynamic interval with the help of this graphic. So, you can have an alternating speed of time in your time-lapse video. This feature will not affect the speed of your camera motion. If you start a time-lapse while you are in Target Mode, you will be able to select targets.
When Ramping is on, you can alter the speed of your camera motion throughout your time-lapse video. This graphic helps you adjust the speed of your motion easily.
If you prefer not to use your phone (edelkrone App), and need a dedicated solution, edelkrone Controller will be your best friend. Compatible with all motorized edelkrone sliders, jibs, heads and dollies, edelkrone Controller allows you to easily control any combination of these devices.
LEARN MORE
Super Accurate Backlash-free Gear Design
All edelkrone motorized products use the same backlash-free gear design technology for perfectly repeatable, smooth motion for even the most demanding shots. Even the most portable edelkrone devices have heavy-duty gears assuring lifetime good performance.
Ultra Quiet Step Motor Driving Technology
All edelkrone motorized devices have a unique quiet step motor driving technology that combines ultra precise step motor positioning ability with ultra quiet operation. Step motors are perfect for precise motion control but until now their downside has been the noise they make. With edelkrone motorized devices, you will get the world's most precise positioning with the quietest performance.
Reviews
Find and read inside stories from users like you!
Customer Reviews
Write a Review
Ask a Question
Very desapointed
Very desapointed with the results of the first sequences. I can't get stable and linear sequences. Indeed all the videos are jerky. I was hoping to get very fluid sequences without jolts but unfortunatly this is not the case. Is there a solution to avoid all these jerks ans this lack of linearity ?
11/30/2021
Olaf J.

Germany
Overall a great product
The middle of the slider I can feel some resistance when pushing by hand, which makes the slide less smooth. I figured out, it may come from the magnets that attract each other in the middle when they are on top of each other. If I remove the belt it runs smooth.
09/24/2021
Christian S.

Germany
09/09/2021
Roberto T.

Italy
Bel prodotto e super azienda
È uno slider davvero ben fatto e compatto, ma la cosa che più mi ha colpito è l'attenzione dell'azienda verso il cliente; mi è arrivato che aveva dei graffi, non ho fatto richiesta di sostituzione perché non incidevano sulla resa, ma ho soltanto lamentato l'accaduto nella recensione, nel giro di pochi minuti, mi ha scritto una mail il responsabile della produzione, chiedendomi la cortesia di mandargli delle foto e scusandosi per l'accaduto. Mi hanno spedito un nuovo slider perfetto in sostituzione e mi hanno ringraziato per le foto, questo dimostra l'attenzione verso il cliente e la volontà di migliorare cercando sempre la perfezione. Questo atteggiamento per me vale 10 stelle e non solo 5 sicuramente lo consiglio
08/24/2021
Roberto T.

Italy
04/12/2021
Paulo D.

Luxembourg
SliderPLUS v5 Long
The best slider you can buy
01/13/2021
Kinya H.

France
軽くて使いやすい
この構造は悪くはないが、ゴム製のギアベルトを装着した場合、センターでロックした状態が長く続くと、ギアベルトに癖が付いて、滑らかな動きが出来なくなります。収納時は、ロックを外し、左右どちらかに寄せておいた方が、まだマシかもしれません。
01/11/2021
Theo S.

Germany
Slider Smoothness
In love with the smoothness!
01/06/2021
Christoffer A.

Denmark
bumpy rubber belts
After storing the slider a couple of weeks, the rubber belts gets a bump, so the movement is uneven. The mounting plate needs more holes for mounting different plates or heads
12/17/2020
Alexander K.

Germany
Shakingmachine
Good to make a milkshake instead a smooth macro shot
12/11/2020
Marek W.

Poland
Perfect!
So far this was exactly, when I expected. I've been using a cheaper compact slider, and I knew its weak points. Stepping up to edelkrone eliminates most of them, so money well spent.
11/18/2020
Thomas W.

Germany
Höchste Qualität
Wie alles von Edelkrone in hoher Qualität!
11/04/2020
Filip P.

Poland
SliderPLUS v5 Long
SliderPLUS v5 Long is a great slider if you like to take those awesome time-lapse or moving videos for like product marketing.
10/01/2020
Daniel B.

Norway
Perfect!
Great product. Super satisfied.
09/30/2020
Enrick V.

France
Best of the Best
Excellent quality, awesome product and app !!
09/18/2020
Garan S.

United Kingdom
A Dream Come True
I've been eyeing up a Edelkrone slider for years and having recently started shooting for stock, I pulled the trigger and picked up the SliderPLUS v5 Long in the recent sale. It's now my favourite piece of kit and don't go anywhere without. It's been perfectly engineered and lovingly crafted, this is evident from the moment you slide off the premium box cover to reveal the slider and peripherals. I cannot be more happier and look forward to adding more Edelkrone products to my set up.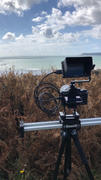 09/14/2020
Henrik K.

Germany
Best Slider ever!
Perfect to use, great dsign and high quality!
07/29/2020
Nicola I.

Italy
Great
Absolutely 5 stars for the idea, and 4 for differences with the old
07/28/2020
Shatish K.

United Kingdom
Compact and light
It's excellent for the size and weight although not as solid as my older pro version. Much smoother. Service from Edelkrone is very good